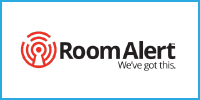 How can Room Alert help you prevent environmental downtime?
Room Alert is the leading environmental monitor for server rooms, data centers, warehouses, cold storage and other facilities large and small. When environment factors such as temperature, humidity, flood, power, smoke and more exceed your set limits, Room Alert notifies you right away so you can act quickly.
30% of all downtime, data loss, and damages an organization will face are due to environmental factors. Every organization monitors their network for security to prevent outages, however how many are monitoring their facility's environment?
Room Alert is Made in the USA, GSA Approved & TAA Compliant, and is trusted by users in over 185 countries to prevent downtime and data loss, and you should too. Room Alert is available worldwide through our distribution facilities in Rhode Island, USA and Shannon, Ireland as well as multiple online retailers and authorized resellers. Don't let a broken HVAC unit, construction accident, failed sump pump or power loss cause costly damages to your facility. Room Alert is environment monitoring made easy… don't wait until it's too late!