Email protection solutions, DNS filtering and email archiving
Cybersecurity pioneers since 1999
TitanHQ: the best-in-class SaaS cybersecurity platform, offering a layered security solution.
The various TitanHQ solutions for companies and managed service providers (DNS filtering, email protection and archiving) protect your end users' emails and websites from malware and ransomware, phising, spoofing and malicious websites.
Recognized in the market for 25 years, TitanHQ is a platform that offers cutting-edge technologies and robust solutions to protect SMEs and MSPs against all these cyber threats that can compromise data and operations.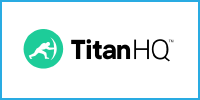 Want more information about TitanHQ?
Please contact us using this form with your question.