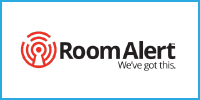 Monitor Your Temperature & Environment... Don't Wait Until It's Too Late!
The New Room Alert 12SR!
The Room Alert 12SR is AVTECH's rack-mounted mid-range environment monitor in our Room Alert PRO line, offering the highest security features such as HTTPS, TLS, and SNMP v3.
This model monitors temperature plus up to 8 more environmental conditions of your choice including an analog (0-5VDC) input. It also offers an additional dedicated relay port to toggle low-voltage electrical devices.
When conditions exceed your thresholds, Room Alert notifies you right away so you can act quickly.
Send emails and text messages right from the device.
Trigger the warning LEDs and siren sound on a Light Tower.
Pair with RoomAlert.com (or other compatible platforms) for even more alerting capabilities.