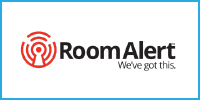 ROOM ALERTTemperature & Environment Monitoring
The most advanced environment monitors, easy to use, reliable and accessible.
Sensors:
Monitors Temperature, Humidity, Power, Flood/Water, Smoke/Fire, Motion, Room Entry, Air Flow, Panic Buttons, Network Cameras and more.
Offers built-in sensors & allows external sensors to be added.
Alerts:
Alert notification via email, SMS, SMTP, dial-out, audio alert and more.
Escalation schedules, quiet times, multiple users and more.
Automatic corrective action to shutdown, backup, reboot and more.
Software:
Built-in firmware for standalone use.
Includes FREE Room Alert Manager's software.
Includes FREE Room Alert Account monitoring and alerting.
Fully compatible with third-party SNMP monitoring tools.
Experience:
Nearly 30 years of industry experience since 1988.
Products installed in over 180 countries.
Award winning team that backs all products.
Accessories For Room Alert – Optimize AVTECH's Environment Monitors To Meet Your Installation Needs
Room Alert is most often installed in computer rooms and data centers, although the reality is that people have installed AVTECH products in all sorts of environments including museums, hospitals, warehouses, kennels, residences, satellites, spacecrafts, jets, submarines, mines, ships, rockets, greenhouses, grow facilities, cell towers, blood mobiles, cold storage, restaurants, digital signage, hotel rooms, casino security and many other types of facilities.
These accessories allow you to customize your installation with mounting brackets, voice or GSM modems, PoE adapters, light towers, relay switch sensors, power adapters for any country or plug type, extended cables and more.