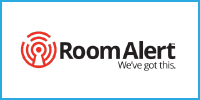 Room Alert Manager Software
Room Alert Manager is AVTECH's all-in-one solution for the discovery, management, monitoring, alerting, logging, graphing, automatic action and more of AVTECH's IT & facilities environment monitoring products, Axis network cameras and more. Complete with its unique range of features, Room Alert Manager runs as a Windows Service (for security) and will continuously and automatically discover Room Alert devices network-wide and display multiple units through a single IP address. Multi-user access is available through Room Alert Manager's interface, accessible from anywhere.
Plugins for Room Alert Manager are available to provide expanded functionality to Shutdown, Reboot and/or Log Off Windows systems remotely, Shutdown and/or Reboot Unix/Linux systems remotely, Dial Out by sending text messages via a GSM modem, using a TAP service to send out text messages via a regular modem, dialing a phone directly and playing dial tones or voice, offer Advanced Reporting and more.
These plugins, available at no additional cost for customers with a Professional account upgrade, are ideal for use when conditions in a computer room or data center environment turn fatal for computer systems and other expensive IT equipment such as extreme temperature, extreme humidity, main power loss, flood, smoke/fire, security break-ins and other conditions.