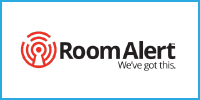 Temperature & Environment Sensors
Environment Monitoring is an important function for facilities of all types including IT data centers, warehouses, schools, hospitals, offices, restaurants, farms, factories, zoos, museums and more. Maintaining a stable environment where equipment and/or products are housed is critical for their continued operation, protection and use. With this in mind, monitoring is typically needed on a continual basis.
The 'IT & Facilities Environment Monitoring' market is arguably one of the fastest growing niches in the computer industry and yet surprisingly remains 'under the radar' of many IT and facilities managers… at least until disaster strikes.
In IT & facilities environment monitoring, there are seven primary threats that are consistently of the greatest concern. These include temperature, power, humidity, flood, smoke, air flow and room entry. Additional sensor types can be found for many purposes. The objective is to implement sensors that will meet the specific needs of your monitoring application, integrate them with an automated monitoring and alerting system and stay within the budget. AVTECH offers a variety of sensors and solutions to help you do just that.