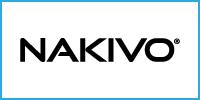 Tighten Recovery Time and Reduce Costs with NAKIVO Backup & Replication and Wasabi
NAKIVO Backup & Replication and Wasabi combine to deliver businesses an integrated and affordable solution for cloud-based backup and recovery. NAKIVO Backup & Replication optimizes Wasabi Hot Cloud Storage by protecting virtual, physical and cloud workloads, automating data protection activities, and offering a range of recovery options for backups stored on Wasabi.
NAKIVO Backup & Replication and Wasabi improve businesses' Recovery Time Objectives (RTO), reduce storage costs and lower administrative overhead. Businesses can reduce downtime by performing efficient recoveries tailored to specific use cases, such as:
Restoring individual files and applications objects without requiring a time-consuming full recovery.

Instantly booting VMware and Hyper-V VMs from backups stored on Wasabi for near-zero RTOs.

Recovering physical machine backups to VMware VMs to mitigate server and workstation failures, create testing and development environments and perform safe Physical-to-virtual (P2V) migrations.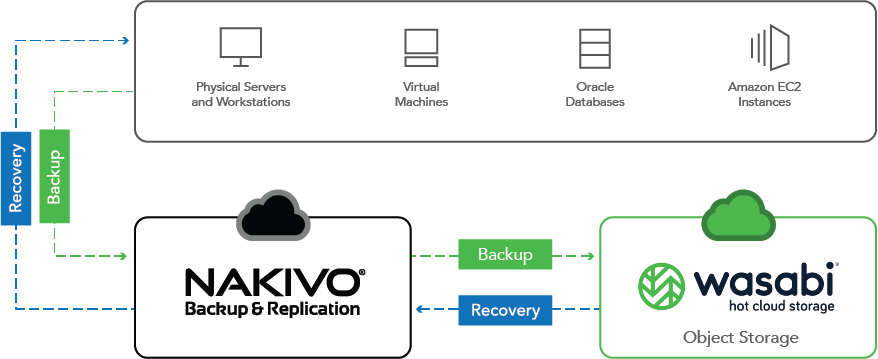 Wasabi & NAKIVO Deliver Breakthrough Price and Performance
For both Wasabi and NAKIVO Backup & Replication, pricing is transparent and fixed, making it simple to forecast storage costs and avoid budget overrun. Wasabi hot cloud storage is 80% less than Amazon S3 with no fees for egress or API requests, keeping costs simple and predictable. In addition to cost savings offered by NAKIVO and Wasabi's affordable pricing strategy, businesses can cut costs even further by leveraging data reduction features to lower storage requirements. NAKIVO Backup & Replication lowers administrative overhead by offering a package of automation, administration and monitoring tools. With these tools, backups can automatically run on customized schedules or according to defined policies, allowing IT personnel to devote valuable time and resources to other tasks.
Key Features
Data protection for virtual, physical and cloud environments

Flexible recovery options to restore just what you need, when you need it

Automate data protection with policies, scheduled backups and job chaining

Affordable, predictable pricing with no hidden costs
Benefits:
Cut storage costs by up to 80%

Shorten backup windows

Ensure business continuity

Eliminate a single point of failure