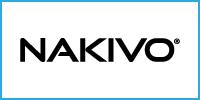 The Windows Server Backup Solution
NAKIVO Backup & Replication is a unified solution for protecting physical, virtual, and cloud infrastructures with strict data protection requirements. NAKIVO Backup & Replication allows you to seamlessly perform Windows Servers backup, ensuring data consistency of applications and databases.
Key Features at a Glanc
Incremental, application-aware backup
Global data deduplication and compression
Instant recovery of files and application objects
Physical to Virtual: recover to VMware and Hyper-V VMs
Backup copy offsite and to public clouds
Secure backup with AES-256 encryption
Small footprint, variety of deployment options
Physical to Virtual
NAKIVO Backup & Replication can recover physical Windows Server machines to VMware and Hyper-V VMs. With the Physical to Virtual (P2V) functionality in place, you can easily perform a migration of your physical workloads to a virtual environment or simply make sure you'll be able to recover business-critical physical machines under any circumstances.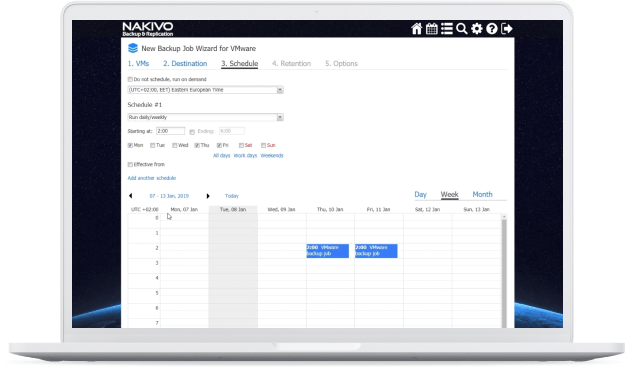 Schedule Backups for Maximum Efficiency
Run your Windows Server backup jobs on demand or set up a schedule to run as often as you need to meet shorter RPOs. Backing up entire Windows Servers can be a resource-intensive process, requiring you to run your backup jobs outside of business hours. NAKIVO Backup & Replication's Calendar Dashboard allows you to schedule your Windows Server backup jobs so that there are no overlaps between them. The feature simplifies backup management in hybrid environments, providing you with a bird's eye view of all your backup jobs.
Use Your Storage Space in a More Efficient Manner
In addition to running incremental Windows Server backups, NAKIVO Backup & Replication reduces backup size by deduplicating and compressing your Windows Server backups once they reach the repository. Thanks to deduplication, the software excludes duplicate data blocks and saves only unique chunks of data. Deduplicated data is then compressed to occupy even less space in the repository. The combination of these operations frees up significant amounts of storage space and saves you precious resources.
Control Your Bandwidth Usage
NAKIVO Backup & Replication provides you with the opportunity to control bandwidth consumption. If you need to run your Windows backup jobs during business hours, you can offload your network by setting global or per-job bandwidth throttling rules. This way, you decide how much bandwidth is used for backup and when. The Advanced Bandwidth Throttling feature is an effective tool that optimizes your Windows Server backup operations and helps ensure sufficient bandwidth for business-critical applications.