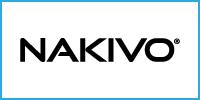 A more extensive, reliable and lasting protection for your data
NAKIVO Backup & Replication is a fast, reliable and affordable solution for protecting enterprise data in virtual, physical, cloud and SaaS environments. The software offers a wide range of advanced features to increase backup performance, improve reliability and automate recovery processes, saving you time and money.
With NAKIVO Backup & Replication you can minimize the impact of ransomware incidents and ensure your data is recoverable without the need to pay ransom.
What's new in NAKIVO Backup & Replication V10.7?
The latest version of NAKIVO Backup & Replication comes with a range of new cloud backup, SaaS backup and anti-ransomware capabilities, including:
Get the #1 Backup and Site Recovery Solution for Virtual, Physical, Cloud and SaaS environments
Get a free trial of this solution with our help!