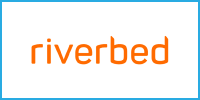 Introducing Riverbed SteelConnect, an SD-WAN networking solution that offers a radically new approach to networking in a cloud-centric world.
SteelConnect is uniquely designed to enable business-intent policies for applications to provide the performance and agility enterprises need today.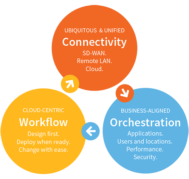 How does Riverbed SteelConnect works
The solution consists of appliances and a centralized management console that the administrator uses to view network health, deploy appliances and make changes to policy. Secure connectivity is automatically established with appliances, policy is updated, and, based on real-time network health, business-critical applications always receive right-of-way.
SteelConnect components:
SteelConnect Gateway
A line of physical and virtual secure WAN gateways that provide unified connectivity (point-to-point and full-mesh) and enforcement of global policy across on-premises and cloud network environments, zero-touch provisioning, automated VPN management and next-generation firewall and threat protection capabilities.
SteelConnect Switches & Access Points
A line of LAN switches and access points (Wi-Fi) that support zero-touch provisioning, a global application of access control policies that provide complete visibility over users and connected devices.
SteelConnect Manager
A centralized multi-tenant management portal that provides an intuitive and simplified workflow for designing, implementing and managing hybrid and distributed networks.
SteelConnect is the industry's first and only product to unify network connectivity and orchestration of application delivery across hybrid WANs, remote LANs and cloud networks.
How SteelConnect Accelerates Your Business Performance:
Agility » Quickly respond to the needs of your business with application-centric, business intent-based policies that are centrally managed and applied network-wide across all remote locations.

Reduced Costs » Maximize the use of redundant and lower cost connectivity options with zero-touch provisioning & centralized management to reduce the cost of deploying and maintaining a hybrid WAN architecture.

Security » Leverage secure transport network services & integrated firewall capabilities to ensure the secure delivery of all applications across your hybrid enterprise.  Securely identify and manage the performance of today's modern and encrypted applications running over SSL, TLS and HTTPS.

Reliability » Create a highly available WAN architecture that virtualizes and dynamically leverages multiple links at remote locations.  Retain end-to-end visibility of network performance and end-user experience for troubleshooting and problem resolution.

Performance » Deliver superior application performance to your business with the industry-leading WAN optimization solution from Riverbed.