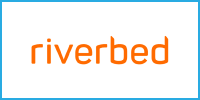 The Digital Performance Platform for the IT infrastructure
Riverbed has a comprehensive suite of IT infrastructure optimization tools that allow any organization to obtain a substantial improvement in access to information. Riverbed develops its products to adapt to any environment with minimal integration and offers cost savings from productivity gains from the first day.
Solutions that maximize business performance in the digital and Cloud-Era
Riverbed gives you enterprise-wide insights to spur innovation, reduce the cost of running your business, and boost productivity at every level. Riverbed solutions provide greater agility, enhanced visibility, increased performance and improved efficiency.
Cloud Networking
Simplify network management and deliver instant, secure cloud connectivity with our industry-leading SD-WAN solution
Cloud Edge
Centralize edge infrastructure to secure 100% of your company's data and dramatically reduce operating costs
Products Riverbed
To maximize productivity, you need to ensure that business apps perform as expected. That data is always available when needed. And that performance issues are quickly resolved. The Riverbed Application Performance Platform™ transforms app performance into a competitive advantage by giving you the tools to leverage hybrid IT for new forms of operational agility.
These are the Riverbed Products: