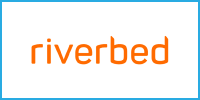 Fast, always-available SaaS applications
Riverbed delivers the only cloud-based Software-as-a-Service (SaaS) acceleration service, purpose-built for today's dynamic workforce to ensure consistent performance of leading SaaS applications for anyone, anywhere, regardless of distance.
A key pillar of the Riverbed Application Performance Platform , SaaS Accelerator offers end-to-end acceleration and performance measurement of leading enterprise SaaS applications, including Microsoft Office 365, Salesforce, ServiceNow, Box, Microsoft Dynamics CRM, and more – along with a built-in software-defined ECDN for great user experiences of live and on-demand video with Microsoft Teams and Stream.
With today's on the go, global workforces that need to remain always-on, it's increasingly hard to predict each user's experience of the applications they use to stay productive. This cloud-based, fully managed service accelerates SaaS application performance by overcoming network inhibitors such as latency, congestion, and the unpredictable user-experiences of today's mobile workforce.
Easy, flexible deployment
With a simple, subscription-based software license activation, SaaS Accelerator spins up in the cloud and works in conjunction with any SteelHead appliances at branch sites, or Client Accelerator on workforce laptops. It does not require any changes to the SaaS provider's infrastructure. Enterprises choose which applications to accelerate based on workforce requirements.