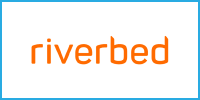 Simplify and manage your SteelHead optimization deployments
Improve Application Performance in the Hybrid Enterprise
SteelCentral Controller for SteelHead enables you to easily leverage and control hybrid WANs for accelerated delivery, based on your business requirements, of critical applications over faster, more secure networks and less-critical recreational applications over the public Internet. The solution simplifies application performance and path management and ensures secure service-level delivery for business critical applications. 
SteelCentral Controller for SteelHead also provides performance monitoring with reporting metrics such as traffic levels, application throughput performance and TCP session flow characteristics – to help diagnose and fix problems.
SteelHead Interceptor appliances in an easy-to-use, browser-based management console
SteelCentral Controller uses a wizard-like process for defining application policies based on customer business requirements. It helps you prioritize, secure and deliver applications over any network (MPLS and Internet) based on intent-based, global business policies.
It provides easy configuration, monitoring, upgrading, troubleshooting and reporting on your SteelHead solutions including groups of SteelHead CX appliances and virtual or cloud instances.
Easy Configuration
Centralizes configuration for a SteelHead deployment from a single dashboard

Enables configuration of security setup to enable hybrid path selection of secured networks

Sends configuration to SteelHeads automatically once they come online
Centralized monitoring and reporting
Monitors SteelCentral Controller for SteelHead Mobile and SteelHead Interceptor including health checks, auto-registrations and automatic backups

Supports SNMP MIBs to monitor SteelHeads through third party applications

Provides reporting capabilities on the SteelHead solution's health and other statistics in an easy-to-use format  
Uninterrupted service
Supports additions or removal of SteelHeads without affecting operations

Facilitates backup and restore of all configuration files from distributed SteelHeads

Allows scheduling of updates and policy configurations so they can take place after-hours or at any specified time