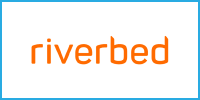 Workforce Performance at Home and On the Go
With modern, mobile workforces spanning the globe and consuming business applications from home offices, coffee shops, airports and client sites, network connections are ever-changing and unpredictable.  And this unpredictability greatly limits an enterprise or organization from maximizing the performance of the applications required to execute business, so that mobile employees can remain productive no matter where they may be.
Riverbed Client Accelerator (formerly called SteelHead Mobile) delivers leading-edge application acceleration to mobile workers anywhere. Delivered in a software-only form factor, Client Accelerator extends best-in-class optimization and acceleration technology to mobile agents, providing accelerated access to on-prem, IaaS, or SaaS-based applications even in less than ideal conditions.
Benefits for the Mobile Workforce
Workforce productivity anywhere, anytime

Fast, consistent, available enterprise applications wherever your employees do their work, for improved customer/client /employee satisfaction, faster time to market, faster time to pipeline/revenue, improved reputation and lower cost/risk to the business.

Eliminates performance problems caused by unpredictable network latency and competition among applications

10x faster, reliable performance for business-critical SaaS (O365, Salesforce, ServiceNow, Box, Veeva and more), and on-prem applications

Reduces network bandwidth by up to 99%