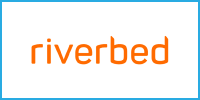 Network Troubleshooting & Packet Capture
Troubleshooting traffic continuously and simple networks, it is not necessary to transfer large files to solve complex performance problems. With continuous capture of packets, fast idexação packet-level information is always available to solve problems and to granular real-time analysis and back-in-time.
Capture terabytes of packet data traversing the network, Riverbed Cascade Pilot software that reads traffic and presents it in an accessible manner using graphs.
Riverbed Steelhead NetShark is a solution that provides capture packets continues and fast indexing and storage ensures that the packet-level information is always available for performance monitoring end-to-end and granular real-time analysis and back-in -time.
Implementation performed in three different ways in order to obtain maximum coverage – dedicated appliance, virtual software or as embedded in optimization solutions Riverbed Steelhead WAN functionality.
NetShark solutions allow organizations to:
Accelerate application troubleshooting with fast retrieval and analysis of packet and transaction data.

Solve intermittent performance problems without having to recreate them.

Gain end-to-end visibility with continuous export of application-enhanced metrics to the Riverbed® NetProfiler console.

Accommodate any monitoring requirement with flexible storage capacity options.
The NetShark and Virtual NetShark solutions can simultaneously store multiple capture jobs. Each job can retain specific traffic selectively store the header and / or payload data, storing data for different time periods, determined by the amount of dedicated storage to work.