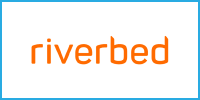 SteelHead Mobile ensures performance gains for mobile users, temporary offices and offices with 1-2 users via WAN optimization solutions market leaders. SteelHead Mobile is fully integrated with the SteelHead appliances existing infrastructure.
With the Virtual SteelHead equipment, companies can extend the benefits of virtualization to WAN optimization devices. The implementation of the Virtual SteelHead in environments with specific physical requirements, without the space limitations of the hardware equipment is now possible.
SteelHead Mobile features:
Improved performance with minimal delays
Provides a performance optimization solution for branch office and mobile workers.
Uses URL learning, page parsing, embedded object pre-fetching, and metadata acceleration modes.
Acceleration of business-critical web applications up to 60x
Supports Microsoft SharePoint, Microsoft Windows applications (e.g., SMBv2, Outlook anywhere, Kerberos), Intranet portals, document management systems, and ERP and CRM applications (e.g., SAP NetWeaver, JD Edwards, Siebel).
Unmatched scalability
Easily scales network performance to hundreds of thousands of mobile users.
Complete visibility and control
Lets you manage the configuration policies that determine what optimizations take place per user or groups of users.
Riverbed offers two solutions:
SteelHead Mobile Controller with 40x Mobile Client Licenses Competitors.
Also available are packs of 10x Licenses Mobile Client Competitors in the case of SteelHead Mobile Controller up to 4000 licenses and in the case of SteelHead Mobile Controller Virtual licenses to 100..