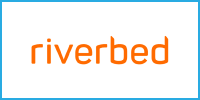 The Riverbed NetExpress is an all-in-one solution that combines the best of flow and packet capture plus monitoring into a single appliance. Traditionally, large enterprises deploy those capabilities across multiple devices. But small-to medium-sized enterprise (SME) looking for an easy-to-deploy network monitoring and troubleshooting solution, take advantage of this cost-efficient package that's designed to grow with thier business.
Affordable, all-in-one network performance management solution for SMEs.

Perfect for strategic IT and performance projects.

Top-down NPM for faster operations.