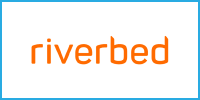 Branch converged infrastructure
The Riverbed appliances SteelFusion, expand the virtual datacenter to the limit of the subsidiaries, and allow full consolidation of edge servers and data. SteelFusion allows disruption of architecture that offers the best of both worlds: data and applications 100% consolidated and performance of your internal network to the WAN.
SteelFusion Solution allows you to consolidate all IT infrastructure of branches / Branches in Data Center projecting only the data that the remote user needs and allowing local access to information.
This range of appliances is recommended for companies that continue to Storage Servers or in branches and would like to make a full consolidation of infrastructure without loss of performance in access to DC.

This solution presents itself as profitable for companies and innovative thanks to the peripheral virtual server (peripheral VSI) Riverbed SteelFusion. The operating load is dramatically reduced with the Edge-VSI, while the control had over the infrastructure is enhanced.
How does SteelFusion solution works?
The SteelFusion appliances, allow managing the virtualized infrastructure as a logical extension subsidiaries and delivered in the Data Center. These solutions consist of the following elements:
In the Data Center is where are the link with SteelFusion Core with centralized storage and branch the SteelFusion Edge (range Steelhead EX) offering WAN optimization and virtual services (VSP) Riverbed based on VMware vSphere platform.
SteelFusion provides answers to important problems that previously had no solution:
Storage consolidation and peripheral servers

Suppression of back-up operations in remote locations (branches)

The security of data stored in locations at risk
Main features:
Full consolidation of Storage and Server

SAN over WAN

Resistant to failures in WAN

Centralized data protection

Data Security

Simplified Management