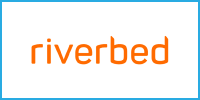 Redefine your network for the cloud era
Increase the agility and flexibility of cloud-connected networks with sd-wan
Riverbed is transforming connectivity for the cloud-era with a complete cloud-to-edge networking solution that is powerful yet simple. At the core is software-defined WAN (SD-WAN) technology that redefines networking with greater operational agility and flexibility. The solution derives its power from a unique set of capabilities:
Centralized policy orchestration and automation
Integrated application performance and security.
Unified Network Fabric
Riverbed is the only vendor with a complete network solution that spans from the cloud to the edge. A centralized, cloud-based management console greatly simplifies the deployment and management of hybrid clouds and hybrid WANs. With Riverbed's solution, you get a unified network fabric that extends connectivity to the cloud, data center, WAN, and wired & wireless LAN.
Centralized Policy Orchestration and Automation
Simplify the deployment and management of networks with workflows that provide powerful policy orchestration and automation. Write policies in the natural language of business (not ports and IP addresses) based on users, locations, security requirements, and more. Speed network deployment at edge sites from weeks to minutes by designing first and deploying later with zero-touch provisioning and one-click connectivity to AWS and Azure.
Integrated Application Performance and Security
Assure that end-user experiences are positive by delivering consistently high levels of application performance and security. Our integrated monitoring tools provide real-time visibility into applications, networks, and end-user experiences. Manage service objectives by setting performance thresholds and applying analytics to identify issues before users are impacted. Use WAN optimization to improve network performance when latency is high or bandwidth is constrained. Riverbed SteelConnect SD-WAN is secure by design with native firewall capabilities that can be augmented with best-of-breed solutions from our security partners.