The email security solution that blocks phishing, malware, spam, viruses and other threats.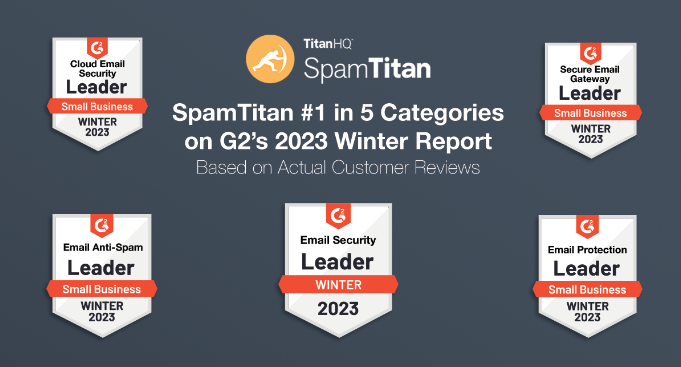 Benefits of SpamTitan:
Advanced protection against phishing: prevents whaling and spear phishing by analyzing all emails in real time;
Advanced protection against other threats: using Bayesian model probability calculations;
Protection against zero day attacks: using technology that predicts new attacks;
Spam filtering: market-leading capture (99.99%);
5-star solution: recognized by users of Spiceworks, Capterra and G2 Crowd. Won 37 consecutive Virus Bulletin Spam awards;
Cost-effective solution;
Email security management: easier configuration (implementation, management and use);
Double antivirus protection;
Industry-leading support team: recognized with a 98% satisfied customer rate (2020 data).
Other SpamTitan features:
Whitelisting, blacklisting and greylisting: creation of lists, advanced reports, verification of recipients and outgoing emails;
Extra layer of protection for Office365;
Data loss prevention;
RBLs: inclusion of 6 RBLs, which guarantee all rejected/blocked domain names or URLs;
Email content filtering: based on rules that protect against online threats;
Protection against infected attachments: blocking of specific files, by domain;
Spam blocking reports;
Customizable policies: for each user, domain/group of domains and global system;
Outgoing email analysis: filter against spam and malware affecting the organization's IP;
Sandboxing: against advanced email attacks.