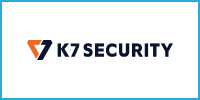 Hassle-free Cybersecurity for your Small Office
Growing businesses operating from small offices with little or no professional IT setup are very vulnerable to malware, spyware, ransomware and many other forms of cyber breaches. We at K7 understand that nothing should stand in the way of your business. K7 Business Security is specially designed to give you maximum control over your network with minimum efforts. Our internationally certified technology is simple, works with your current hardware and requires no IT expertise to manage.
Leave your cyber worries to us while you take care of your business.
K7 Business Security for Small Offices:
Business Friendly – designed for small offices with basic IT setup.
Hassle-free installation, administration, and operation.
Centralized control over endpoints on the network.
Dedicated Support and real-time technical assistance.