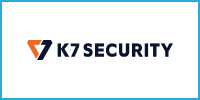 Boundaryless Cybersecurity for the No-Perimeter Enterprise
The modern enterprise has a distributed workforce. Employees may work at any time and from anywhere and enterprise cybersecurity has to dovetail into this pervasive computing environment. K7 Endpoint Security (EPS) has been designed to be as flexible as, and evolve with, an IT ecosystem that doesn't have a defined IT perimeter.
K7 EPS provides award-winning, multi-layered protection for enterprise endpoints and servers. Easy to manage and use, K7 EPS supports rapid-rollout, and is designed to have a low impact on device and network resources.
K7 EPS Highlights
Cybersecurity Features
Carrier-class Cybersecurity – Protection against malware, phishing, infected email attachments, malicious links, Advanced Persistent Threats (APTs) and zero-day attacks.
AI-enhanced Security – Protection against unknown threats
Ransomware Protection – Special anti-ransomware module stops malicious encryption
Safe Surf – Antiphishing and Malicious Site Blocking
HIDS/HIPS – Firewall with integrated Host Intrusion Detection System (HIDS) and Host Intrusion Prevention System (HIPS)
Administrative Benefits
Web Filter – Improve productivity with category-based website blocking
Device Control – Block devices like USB drives based on Class ID and Device ID
Application Control – Allow or block applications from running on endpoints
Centralised Control – Update policies quickly and reduce incident response times
Notifications – Receive alerts on security incidents