High-density architecture reduces the equipment required while leveraging automation to deliver SLA. XV3-8 includes seamless roaming, fast roaming, automatic RF optimization and interference avoidance to automatically optimize performance to specific local needs. This Software-Defined 8×8 Multi-Radio AP is equipped with dedicated scanning radio and BLE, WPA3 secure public access, Application Control and 802.3bz Ethernet optimized for high density deployments.
Designed for High Density and Edge Services
The XV3-8 features a total of five (5) radios to deliver a next generation network with edge services with high capacity and high density. Three data radios can be configured as two 5 GHz 4×4 plus one 2.4 GHz 4×4, or the two 5 GHz radios can be combined into a single 5 GHz 8×8 radio with the maximum power and performance of the 802.11ax standard. A dedicated network scanning radio provides continuous network monitoring to enhance security protocols, detailed network reports, and automatic RF optimizations. Add the Bluetooth Smart 4.1 IoT radio for BLE-based location services and you get a multi-radio, high capacity Wi-Fi 6 AP designed for the most demanding networks in enterprise, education, retail, and public venues.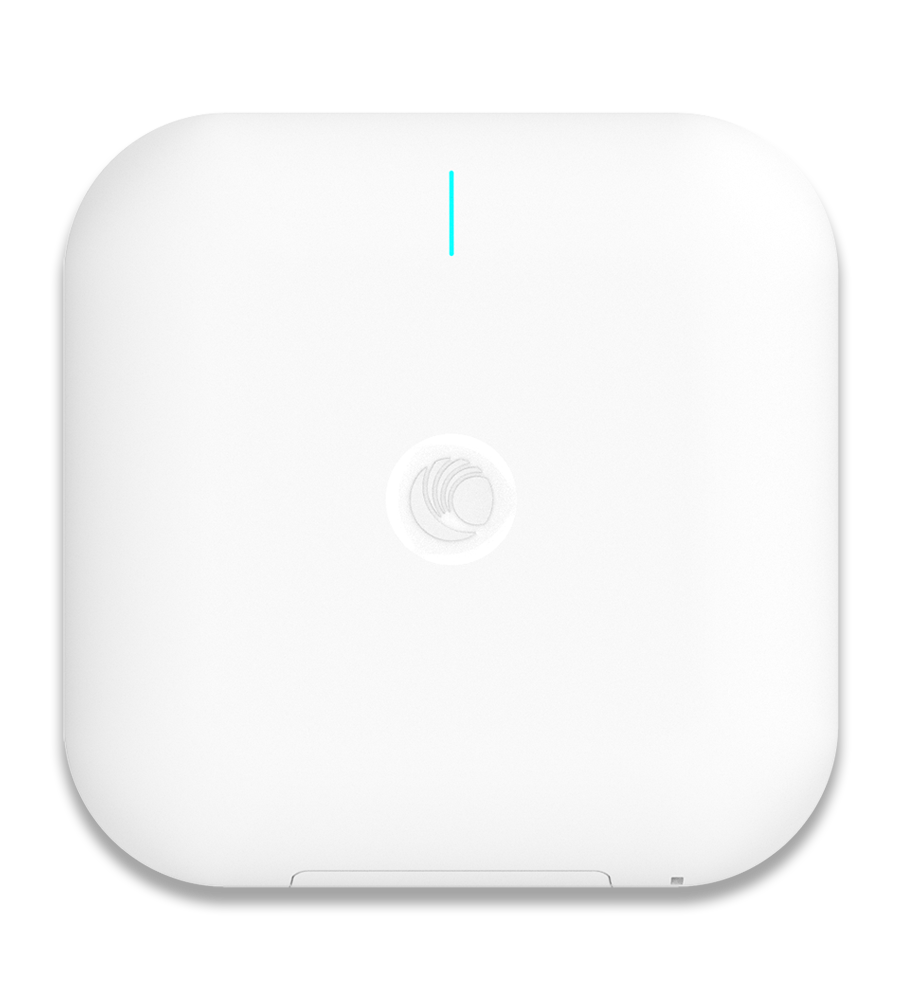 Optimized Wi-Fi for All Client Devices
For networks dominated by legacy 802.11ac client devices, the dual 5 GHz 4×4 mode will double network capacity to maintain high-bitrate services as density increases. As the devices migrate to the new Wi-Fi 6 standard based on 802.11ax, the XV3-8 SDR can be quickly converted into full 8×8 operating mode via a simple configuration change. No firmware change is required to support this mode.
Cloud and On-Premises Management
XV3-8 operates with either the Cambium XMS cloud management or cnMaestroTM cloud and on-premises. Choose the cloud management system that best fits your business and use the latest technology from Cambium Networks.
XV3-8 WI-FI 6 ACCESS POINT
Access Point Specs
Radios

5 GHz radio (802.11a/n/ac Wave 2/ax), 8×8 (or configure as 2 x 5 GHz 4×4)




2.4 GHz (802.11b/g/n/ax), 4×4 Dual-band scan radio, 1×1 BLE 4.1

Wi-Fi 

802.11a/b/g/n/ac Wave 2/ax

SSID Security

WPA3, WPA2 (CCMP, AES, 802.11i), WPA2 Enterprise (802.1x/EAP), WPA PSK (TKIP), Open

Antenna

5 dBi (2.4 GHz) 6.7 dBi (5 GHz), Omni dual – band sensor antenna, 5 dBi (2.4 GHz) / 6.3 dBi (5 GHz) BLE antenna, 5 dBi
Network Specs
| | |
| --- | --- |
| WLAN | 1,024 clients, 16 SSIDs WPA3, WPA-TKIP, WPA2 AES, 802.1x, 802.11w PMF |
| Authentication Encryption | 802.1x EAP-SIM/AKA, EAP-PEAP, EAP-TTLS, EAP-TLS MAC authentication to local database or external RADIUS |
| QoS  | WMM, 802.11e |
| VLAN | 802.11q |