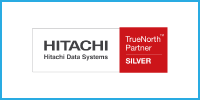 The Hitachi Virtual Storage Platform (VSP) is the option when looking for enterprise storage, from midrange solutions to high-end. With an unchanging performance, efficiency and reliability.
Run applications at peak performance
Simplify for greater IT efficiency
Hitachi Virtual Storage series are
Hitachi VSP G Series
Hitachi Virtual Storage G series are flash-optimized virtual storage platforms, that deliver high performance, resiliency and a software-defined infrastructure for faster innovation and improved business outcomes.
Main features and advantages
Accelerate business applications with up to 4M IOPS of performance
Eliminates risk and guarantees 100% data availability
Simplifies and improves IT responsiveness with better data management
Take advantage of virtualization integration for enterprise applications
Improve application performance
Simplify new workload delivery and centralize management with advanced automation and storage virtualization
Hitachi VSP G Models
Virtual Storage Platform F Series
Currently, all-flash solutions force you to choose between performance and continuous availability. With Hitachi Virtual Storage Plataform (VSP) F series you no longer have to compromise.
The VSP F System provides:
capacity increase without comprissing in performance (inline compression, NAS workload deduplication, high-performance all-flash);
100% data-availability and data-reduction;
hot-swappable parts;
data protection and non-disruptive updates.