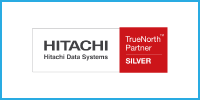 Hitachi Vantara' servers add to IT infrastructures high availability, efficiency and scalability.
ENTERPRISE-CLASS
Maximizes platform efficiency and flexibility while adds control over costs using unique high-end x86 server features.
CONVERGED-READY
The right balance of performance, reliability and low cost with rack-optimized solutions for scale-out and hyperconverged systems.
NETWORKING-OPTIMIZED
High-performance connectivity solutions, with features such as integrated management and in-chassis networking.
O portfólio de servidores Hitachi Vantara incluem:
Hitachi Compute Blade 2500
Hitachi Compute Blade 2500 Datasheet
Move to the high-performance, high-capacity solution for business-critical application workloads in your enterprise

Scale up and scale out with configuration flexibility to support the most demanding processing and I/O needs for big data, analytics and analysis
Hitachi Compute Blade 5000
Hitachi Compute Blade 500 Datasheet
Shift to the ideal platform for enterprise virtualization, software-defined infrastructure and private cloud applications

Unique high-end features, Hitachi dependability and manageability at scale support the next generation of IT solutions
Hitachi Rack Optimized Servers
Strike the perfect balance of high-performance and low cost with the family of rack-optimized servers – the foundation of many Hitachi solutions and appliances

Reduce IT costs with scale-out solutions for virtualization and content management

Redundant, hot-swappable drives and power supplies and dual-rotor fans keep non-stop business operations up and running 

Control and manage end-to-end compute infrastructure with integrated provisioning, configuration and monitoring of every component.
Hitachi Compute System Manager
Hitachi Compute Systems Manager Datasheet
Get a comprehensive view of your entire compute blade infrastructure with a single management interface 

Manage multiple servers, storage and networking, resolve issues and take advantage of optional plug-in modules with advanced capabilities