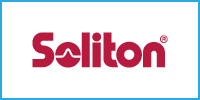 Since 1979 as a leading Japanese technology company serving many industries across the globe, Soliton has pioneered IT security solutions for protecting company data from external IT security threats, and more recently delivered on the first mobile H265 HEVC solution for the live broadcasting market. Soliton continues to innovate in many markets and our products continue to grow and innovate with a strong emphasis on Research & Development to serve an ever-changing world.
Soliton recently acquired Excitor and will continue to offer Excitor's secure mobile and remote access products alongside its range of enterprise-class network security solutions.
Want more information about Soliton?
Please contact us using this form with your question.