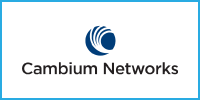 Cambium Networks provides service providers, enterprises, government and military agencies, oil, gas and utilities companies, internet service providers, and public security organizations the construction of powerful communications networks, allowing users to reach users within a radius of 200 kilometers across mountain tops to devices, thus allowing them to intelligently manage their commercial Wi-Fi infrastructure through network visibility and actionable analysis.
Want more information about Cambium Networks?
Please contact us using this form with your question.